Pris - 700,00 kr.

Super flot speciel
Legendary Collection 3 æske (ny og uåbnet) indeholdende i alt 52 kort:
1 helt specielt Ultra Rare kort
The Seal of Orichalcos, ultra rare
3 Ultra Rare Monster kort
Five-Headed Dragon, ultra rare
Dark Necrofear, ultra rare
Guardian Eatos, ultra rare
3 Ultra Rare "Token" kort
2 med specielle "Kuriboh" illustrationer
1 med en speciel "Emissary of Darkness" illustration
5 Legendary Collection 3 Mega-Packs
Hver Mega pakke har 1 Secret Rare, 1 Ultra Rare, 1 Super rare, 1 Rare, og 5 common kort (i alt 45 kort).
1 spilleplade
Hård sammenfoldelig dobbeltsidet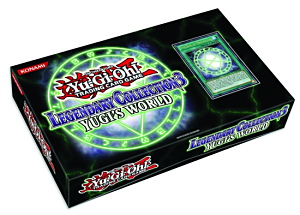 Æsken måler 26 * 16 * 5 cm.

Forsendelse (i Danmark):
Brev 51,00 kr. eller
Pakkepost 85,00 kr.

Kan afhentes i Farum efter aftale
(også i weekenden).